Μια παλιά συνέντευξη της εφημερίδας NY Daily News
A Greek chef's herb-an adventure
BY Patrick Huguenin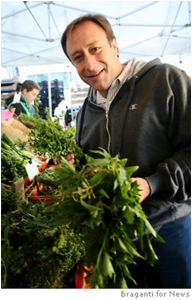 Chef Yianni Baxevanis is a restaurateur, a father of four and, when duty calls, an international herb smuggler.
This week, Baxevanis was called away from his two restaurants in Athens for the opening of one in Astoria. Athens Tavern, owned by his friends Antonia Sapounakis and Nicos Gregoriou, is joining a neighborhood already chock-full of Hellenic eateries, so master chef Baxevanis is the secret ingredient. And this Greek comes bearing greens.
In preparation for last night's opening, Baxevanis spent Saturday at the farmers' market in Union Square piling a bag full of sorrel, white dandelion, lemon verbena and orange mint. When he returns in the middle of winter to update the seasonal menu, he'll have to bring his own fresh supply.
"In the wintertime in Greece it rains up in the mountains and there are a lot of herbs," he says, relaxing at a sidewalk table in the rush of Tuesday's deliveries and tastings. "So I'll bring them with me." His words are translated by one of the restaurant's waitresses, Aphrodite, who arrived from Greece only Monday.
Asked how he will manage to slip a kitchen's-worth of foreign plants through customs, Baxevanis only laughs. He's done it before. He once showed up to a children's cooking demonstration in Paris with a suitcase of herbs.
Baxevanis was reared in a household where, he says, "everybody was cooking very well," and after culinary school in Greece he headed to France to try something new.
Five years later, his return to Greece took him to the island of Crete, where he spent another eight years sniffing out cooking methods that had fallen from professionals' parlance.
"France was a big experience," he says, "but then in Crete I saw how the women cooked. They used a lot of herbs and I picked up the old, Cretan way. I found greens that people had stopped cooking with, and started over. I rediscovered it."
His travels have only begun. Today he waves goodbye to New York and jets to Dubai, where he is soon to open yet another restaurant.
The hoi polloi in Dubai may have expensive appetites, but the city isn't his cup of tea. "I don't like the place," he says, "because it is an imitation of Manhattan."
New York City, on the other hand, had plenty of originality to offer. Armed with bundles of fresh-picked goodies from Union Square, Baxevanis and the owners focused the menu on the produce of local farms and fisheries.
"I don't want to use any farm-raised fish," says Sapounakis. "I don't want to lie to people. I want it to be local, with some imported fish if seasonal
Sapounakis, a native Cretan, loves Baxevanis' homey recipes and, after her eight-year tenure as a waitress at Manhattan's Avra, she admired his sophistication.
"When Nicos invited me to be his partner, I said of course," she explains, "if I can have my menu and my choice of chef!"
Baxevanis had barely arrived before Sapounakis and Gregoriou were testing his palate with local discoveries.
"They brought me a fresh rabbit," he says, "and fresh chicken from the mountains upstate."
But the herbs are the prize, and it's the herbs Baxevanis can't stop talking about. Mid-interview, he causes a commotion by ordering various leaves and cuttings brought to the table. He speaks of the salads he's planning in his head, of fish stuffed with fennel and dandelion.
"In Crete," he says, "they have a dandelion that is small like this," he says, measuring two inches with his fingers. "And it grows near to the sea so it is salty."
No matter how far Baxevanis goes, no matter the time or continent, his ingrained traditions are at the fore. He has home on his mind.
"When I was working in France," he says, "my wife used to say that whatever I cooked, it smelled like Greek food."
Athens Tavern, 23-01 31st St., Astoria, (718) 267-0800.
Baked Fish Stuffed with Wild Greens
Serves 2
From Yianni Baxevanis of Athens Tavern
Πηγή:  http://www.nydailynews.com/lifestyle/food/2007/10/19/2007-10-19_a_greek_chefs_herban_adventure.html#ixzz1H4GpyONd